Brands
The Leaders of Design & Innovation
Meet the companies that we call partners. They form the foundation of our product specifications thanks in part to their best-in-class performance, breadth of product offering and ongoing technological innovation.
Audio / Video
---
Backed by over two decades of in-house, hands-on design and audio engineering, Anthem is the brand of choice for knowledgeable audiophiles, professional musicians and casual listeners alike. Anthem's award-winning preamplifiers, amplifiers and AV receivers deliver an unprecedented level of reliability and functionality for world-class home theaters, dedicated listening rooms and more. Revel in perfectly optimized audio performance with Anthem's proprietary room correction technology that sonically ensures top-quality sound throughout any space in your home. Promising pure audio with no trace of coloration or risk of distortion, Anthem always puts you front and center with your favorite entertainment.
Enhance your home audio-video quality with AudioQuest's line of speaker and HDMI cables. Drawing on decades of experience, AudioQuest cables deliver unprecedented value and performance for all applications. Audiophiles often like to gauge quality based on ear tests, but at AudioQuest, all cables are developed and judged using a scientific process. Every piece of your home entertainment system matters, but cables often get left out of the equation. Opting for low-end cables will result in damage to your components and dull or irritating sound. AudioQuest is dedicated to bridging the space between your sources and speakers with little to no effect on the signal. AudioQuest cables reduce signal deterioration and coloration for a result true to the original without losing any important details along the way.
Universally loved by audiophiles and recording professionals, Bowers & Wilkins is believed by many to offer the best loudspeakers in the world. They are so synonymous with luxury sound that they're the official audio solution for all Jaguar car models. For more than 50 years, they have been the standard bearers in the hi-fi world through handcrafted speakers, superior grade materials and industry-leading audio engineering. They introduced the use of Kevlar and Diamond for the ultimate in pure, striking sound reproduction, and their audio engineering delivers expansive depth and clarity. Despite being best known for their flagship loudspeakers, B&W now offers the same exacting audio standard to their line of headphones, subwoofers, architectural speakers and even their stylish wireless speakers.
The hi-fi products from Cambridge Audio aim to fight the subpar sound that has become the norm for many retail products. Throughout their 50 years of audio engineering experience, the company's goal has always been the same: purity of sound. The British company staffs 20 audio engineers at their London headquarters, including electrical engineers, coders and QA testers. All interior components are tested and only used based on which offer the most astonishing clarity and dynamism. Enjoy outstanding audio performance through their lines of amplifiers, turntables, headphones, speakers, network players and receivers. You'll find high-end audio solutions for any budget and application. With a love of music guiding its endeavors, the company commits 5% of all its profits to music charities.
Passionately shaped by decades of innovation and engineering excellence, Denon leads in revolutionary audiovisual reproduction to offer powerful sound and video experiences for entertainment enthusiasts everywhere. Each solution is born from vigorous study of physics, electronics, art and nature to ensure they precisely meet the needs of every consumer. Craft the perfect entertainment experience with Denon's vast selection of home theater receivers and soundbars, wireless speakers, hi-fi amplifiers, CD players, turntables and more. No matter the product, Denon promises superb craftsmanship, precision engineering and impeccable performance for any audio solution you desire in your home.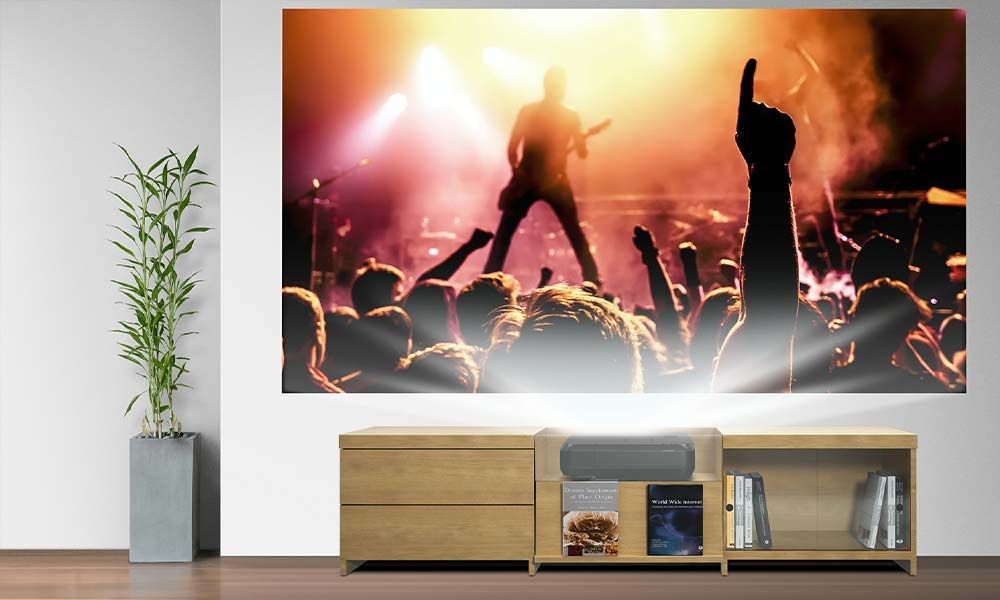 Leverage Epson's long history of electronic innovation with their line of commercial and home cinema projectors, which deliver striking, dynamic quality for projection made perfect. Their wide range of projectors is ideal for home theater enthusiasts who enjoy watching sports, TV shows or movies. With images up to 300", you can relish the big-screen experience in the comfort of home. Meanwhile, 4K video resolution and advanced color processing offer unprecedented detail ideal for both residential and commercial settings. With ultra-bright models available, you can enjoy dynamic images, even with ambient lighting in the room. Dealing with a small space in your home or office? Explore Epson's high-performance, short-throw projectors that can sit just a few feet from the screen.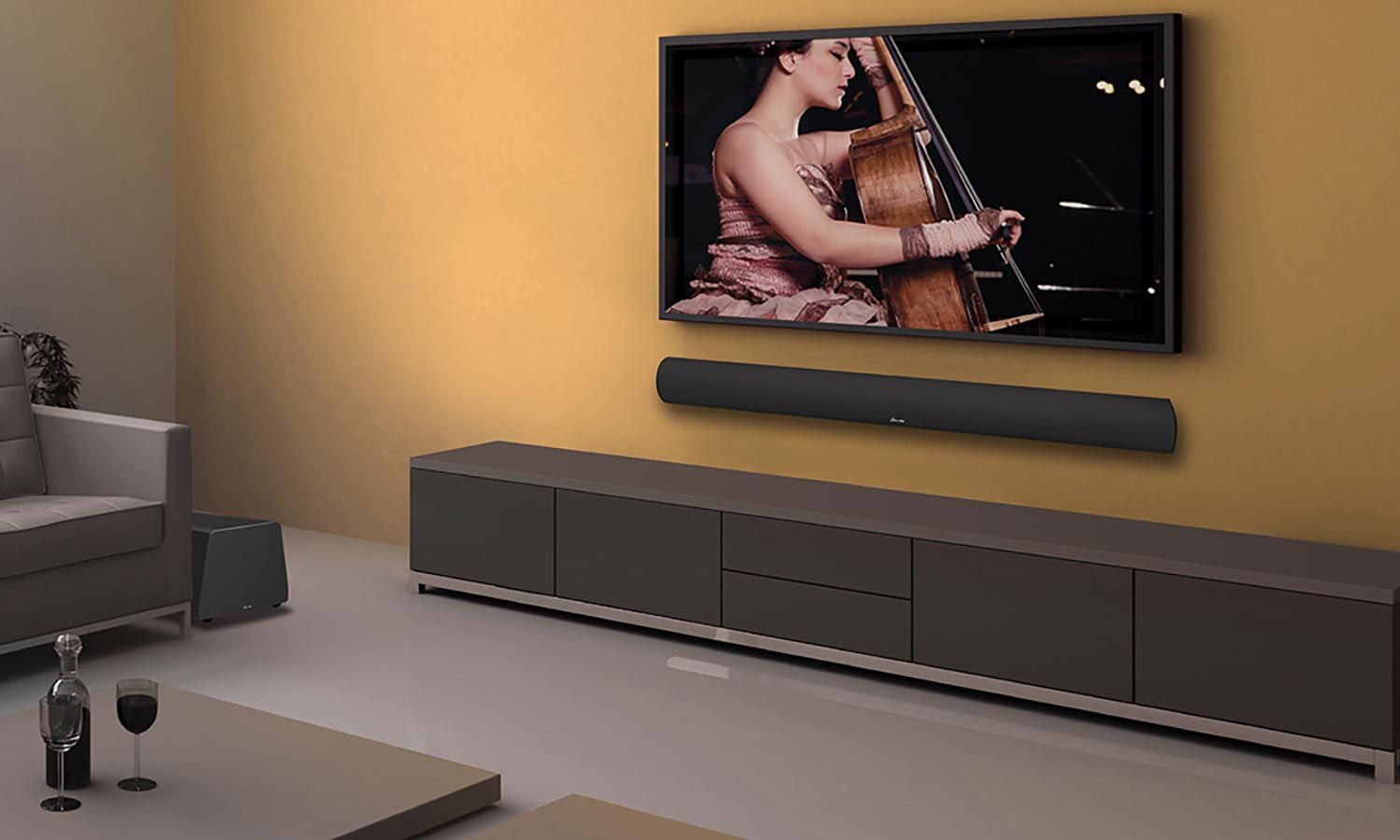 Audiophiles Sandy Gross and Don Givogue founded GoldenEar in 2010 in Irvine, CA, to put their "golden ears" to use to create speakers that hit the golden spot every time. They leverage over a hundred years of experience between them and their engineering team to bring sonic perfection to all GoldenEar loudspeakers. Each speaker model delivers high-performance audio regardless of the price point. When listening through a GoldenEar loudspeaker, the components virtually disappear, so it's only you and the recording in the room. At the heart of their success is a focus on a wide soundstage, a smooth frequency response, solid bass response and sonic clarity. While known famously for home theater speakers and soundbars, GoldenEar also offers its flagship Triton Series 2-channel speakers and discreet in-wall and in-ceiling speakers ideal for custom whole-home audio solutions.
JL Audio is a consumer and professional audio manufacturer focused on delivering unique engineering, superior quality and high-performance audio to sound enthusiasts around the world. JL Audio was founded in 1975 on the belief that great audio has real value and that their discerning customers can "tell the difference." The Florida-based company is known as one of the pioneers of the car audio industry and is also active in the marine, home, mobile and powersports markets. JL Audio is particularly famous for their subwoofers, which have received the highest accolades from audio reviewers and demanding audiophiles around the world and feature proprietary, patented technologies that require unique assembly techniques. Nearly all JL Audio speaker systems are built in the United States and overseen by production and logistics professionals who make sure every product maintains the company's high-quality standards.
In 1946, hi-fi legend Paul W. Klipsch founded Klipsch in a small shed in Hope, Arkansas, where he designed the now legendary Klipschorn speaker. Live music made its way to living rooms throughout the country through the company's advanced horn speaker technology. Although hi-fi is at its soul, Klipsch offers a wide range of personal and home audio solutions. From their massive audio research facility that includes anechoic chambers, digital electronics workstations and an industrial design lab, Klipsch is continually revolutionizing high-end sound. Listen to the best in modern acoustics through their high-end speakers, home theater speakers, architectural speakers, headphones, soundbars and wireless speakers. Though the company was bought by Audiovox Corporation in 2011 and is now based in Indianapolis, Indiana, the ethos from that small shed remains Big Sound. No Bullshit.
Magnepan has been manufacturing innovative, world class stereo speakers for 47 years. Jim Winey, the inventor of the Magneplanar loudspeaker, first owned electrostatic loudspeakers and began experimenting to design an improved electrostatic speaker. In 1969, Jim invented the Magneplanar, a thin-film magnetic equivalent to the electrostat and founded Magnepan. Corporate and manufacturing facilities are located in White Bear Lake, Minnesota, a small community north of the Twin Cities of St. Paul and Minneapolis. Having outgrown its original facilities, Magnepan's current plant is over 50,000 square feet in addition to corporate and engineering offices. To date, over 200,000 pairs of Magneplanar loudspeakers have found their way into the homes of music lovers the world over. Magneplanars are American-made with virtually all American parts. And we are proud to say — "Made in America. Sold in China."
An audiophile favorite since 1953, Marantz delivers uncompromising sound true to the original recording. All Marantz products are crafted with sonic supremacy in mind to provide unmatched hi-fi sound that redefines the listening experience. Each product is the result of purposeful design and state-of-the-art technology that respects tradition while embracing innovation. Having passed rigorous testing at the hands of in-house sound masters, you'll experience the same extraordinary Marantz signature sound each time. At the heart of all Marantz' hi-fi audio products is the idea that music matters—and so does the way you listen to it. Let Marantz' award-winning receivers, amplifiers and wireless music systems transform the way you listen to your favorite music and movies.
McIntosh has been shaping music since 1949 with its distinguished offerings of luxury audio systems. From two-channel stereo sound systems to multi-channel home theater surround sound systems, the New York-based manufacturer offers a large scale of handcrafted audio products that enable music and film enthusiasts to truly live inside the most immersive soundscapes. Their iconic blue Watt output meter lives on every one of their amplifiers and receivers and is truly a global symbol of quality home audio. Go beyond the home theater and dedicated listening room with audio products like their signature turntables, CD players, speakers and headphones that bring exceptional sound to your everyday life. When you choose McIntosh, you choose the same experience, passion, and performance that has powered some of the most iconic musical moments in history.
Find the optimal high-performance audio solution for home theater systems, outdoor sound and 2-channel audio through a wide range of Paradigm loudspeakers. Since 1982, the Toronto-based company has perfected the balance of construction, design and engineering for the ultimate value in high-end sound. Relying on in-house audio research, Paradigm constantly re-tests, re-measures and re-designs their speakers for superior sound quality every time. Even the most critical listeners will be amazed by the clarity and power of sound emanating from their loudspeakers while listening to music or movie soundtracks. Variables within the room can easily affect sound quality which is why all speakers include Anthem Room Correction (ARC) technology. ARC eliminates these variables by comparing room acoustics to the company's lab standards to get rid of adverse results through custom calibration.
Neophytes and audiophiles alike can enjoy old-school hi-fi sound with tube amplifiers from PrimaLuna. Dutch entrepreneur Herman van den Dungen paired up with tube specialist Kevin Deal in 2000 to deliver reliable, high-performance components with features that could compete with products costing up to five times as much. Adaptive AutoBias smart technology monitors tubes and adjusts them in real time for lower distortion and longer tube life. Each amp produces deep, powerful bass through in-house power and output transformers. Unique point-to-point wiring on all amps uses heavy-gauge cable throughout the signal path for excellent reliability. Though known best for their integrated tube amplifiers, The Netherlands-based PrimaLuna also develops pre-amplifiers, power amplifiers and DACs, which are distributed worldwide.
More than 50 years of experience in high-performance audio video solutions has made Rotel a premier brand in the industry. Rotel's dedication to designing, engineering and manufacturing cutting-edge AV products puts them above the rest, while the time they take to build, test and evaluate every model before production only adds to their trustworthy reputation. Supreme sound quality comes from Rotel's Balanced Design concept which combines component selection, circuit topology and evaluation when building each of their high-end components including amplifiers, DACS, CD players, surround processors, distribution amplifiers and more. Originally started in Japan by Tomoki Tachikawa in 1961, Rotel moved its headquarters to Zhuhai China in 2005.
Elevate your expectations of home entertainment with Samsung's most innovative and advanced range of televisions that offer an impeccable visual and auditory experience for film and gaming enthusiasts alike. Samsung's proprietary Quantum Processor is the mastermind behind their unrivaled QLED 4K and 8K TVs that display a depth of detail, contrast and realism never seen before. Even when not in use, Samsung displays add beauty to your home by transforming into framed artwork or blending into the decorative pattern on your wall, elevating your space while turned on and off.
Established in the early 1980's, Southern California-based Dana Innovations is the parent company of Sonance, iPort and TRUFIG. Sonance specializes in designing high-quality audio systems for luxury homes and businesses that work in virtually any environment, from in-wall and in-ceiling to expansive outdoor landscapes and more. Enjoy sightless surround sound that immerses you into your favorite blockbuster film or musical soundtrack with discreet speaker solutions that complement any indoor décor or hide evenly throughout your gardens and foliage. With Sonance, delight in immaculate sound with minimal visual impact thanks to the beautiful blending of technology and aesthetics. Further expanding on its commitment to luxury sound, Sonance acquired James Loudspeaker in 2019. The acquisition allows Sonance to leverage James Loudspeaker's innovations in the areas of custom and architectural audio to create high-performance, bespoke solutions for its clients.
Sonos envelops every space of your home with brilliant audio, creating a soundscape you can easily customize to play what you want, where you want. With smart, wireless speakers for your music and cinema, Sonos expands crystal-clear audio anywhere you desire and connects to all your favorite media sources for easy, one-tap listening. Seamlessly command your speakers with voice activation or from your smart device of choice and rediscover your favorite music with a sound system that lets you listen your way.
Each Sonus Faber speaker is not only a handmade musical instrument but an exceptional work of art. Producing the purest sound through natural materials and individualized tuning by ear, each model has delivered "the Voice of Sonus Faber" since the company was founded in 1983. Their speakers showcase the traditional craftsmanship of Italian artisans offering the same precision used when building the world's most famous musical violins. The "Made in Italy" expectation is there as well in the elegant aesthetics that make Sonus Faber a focal point of your home décor. Speakers come in various polished finishes, including wood, metal gray, white and black. Their wide range of reference loudspeakers, bookshelf speakers and wireless speakers exemplify the pinnacle of hi-fi sound for a wide range of applications.
Delight your senses with professional-grade home entertainment solutions designed to harmonize both picture and sound for a breathtaking, true-to-life experience. Unprecedented contrast, color and realism are made possible with Sony's proprietary technologies that also lead in pixel-by-pixel detail for texture you can practically feel. Whether you're outfitting a multi-purpose media room or a dedicated private cinema, Sony's line of premium 4K HDR projectors and TV displays, AV receivers and high-resolution speakers work in tandem to craft the immersive experience intended by film and video game creators.
A leader in the projection screen industry, Stewart Filmscreen Corporation combines elite function, value and quality in all of their products. For 70 years, their extreme attention to detail has resulted in some of the best display solutions for home theaters, digital signage and conference rooms. The designers at Stewart Filmscreen Corporation reject the one-size-fits-all mentality. Whether you need to adapt your screen to ambient lighting, rear projection or an office workflow, Stewart Filmscreen Corporation delivers the ideal model for any application. Their display inventory includes 25 different screen materials, custom-built for each installation. Their brightness and color uniformity make them the go-to company for post-production work by major movie companies and the only screen manufacturer company with two Academy Awards.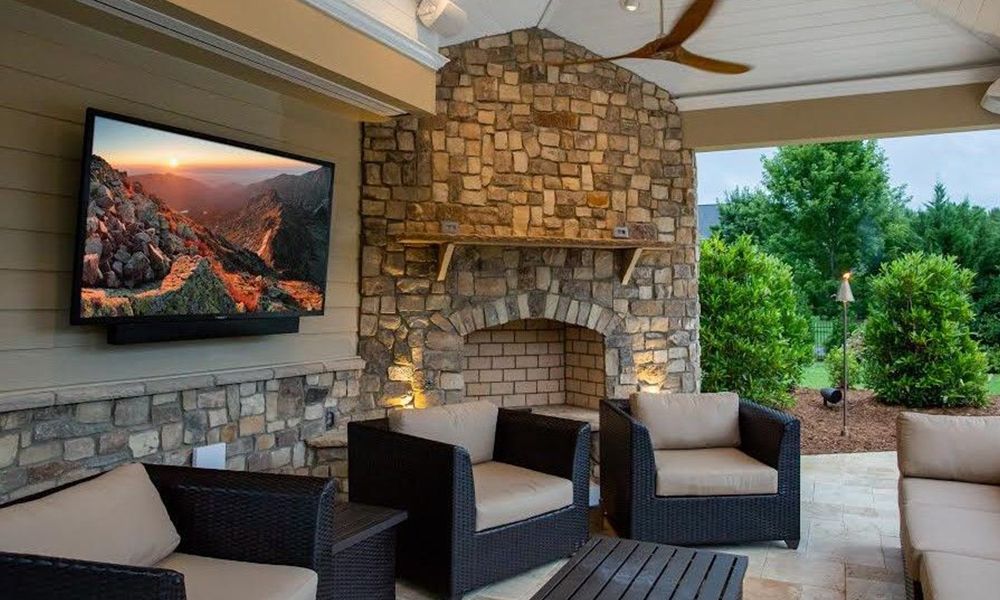 SunBriteTV was founded in 2004 for the explicit purpose of creating displays that deliver the ultimate brightness and image quality when hit by direct sunlight. Housed within a durable aluminum case, SunBriteTV displays can withstand extreme temperatures, UV rays, dirt and rain. Although huge in the residential market, SunBriteTVs are so reliable that they are used in many professional stadiums including Yankee Stadium and Wrigley Field. Their TV lines vary depending on whether you want to watch in full shade, partial sun and full sun. Each model is 2-3 times brighter than indoor displays to make up for ambient lighting. Models for full shade and partial sun are also available in 4K UHD video resolution. With sizes ranging from 32" to 75", there's a solution for any home entertainment system. The California-based company is the only consumer brand that manufactures all its televisions in the United States.
Best-in-class sound quality, superior reliability and easy-to-use features are the hallmarks of the Yamaha home theater and home audio experience. Take a dramatic leap forward in audiovisual entertainment with studio-grade AV receivers, soundbars, wired and wireless speakers, turntables and more for the ultimate in audio performance no matter the application. From single-room to expansive whole-building solutions, Yamaha features audio systems and accessories that are built to fit in any space within your home or office. Experience a fully customized soundscape of unsurpassed clarity and tonal accuracy for top tier listening enjoyment every time.
Home Control
---
Experience personalized control for your unique lifestyle with the power of Salt Lake City-based Control4. Connect virtually any device in your home or business to work together, and command them all with customized one-touch controls and scenes from your system remote or smart device of choice. Whether you're home or away, Control4 gives you the power to command and monitor your estate or business in one platform. The transformative benefits of a smart connected home and business with Control4 delivers convenience, peace of mind and an efficient environment that's comfortable and safe.
URC delivers premium home automation and control solutions, bridging all your connected devices. Their Total Control 2.0 platform lets you seamlessly manage your media, security, lighting and more from one easy-to-use and customizable graphical user interface. Gain access to the Total Control 2.0 experience from your smart device of choice, including elegant touchscreens, handheld remotes, keypads or mobile apps that are all driven by powerful URC system processors. Hands-free control is also available through voice commands from Amazon Alexa and Google Assistant. This professionally installed and programmed system integrates with thousands of products in addition to the native URC product line up. Headquartered in Harrison, NY, URC has been a global leader for 25 years in automation and control for both residential and commercial projects.
Lighting & Shading
---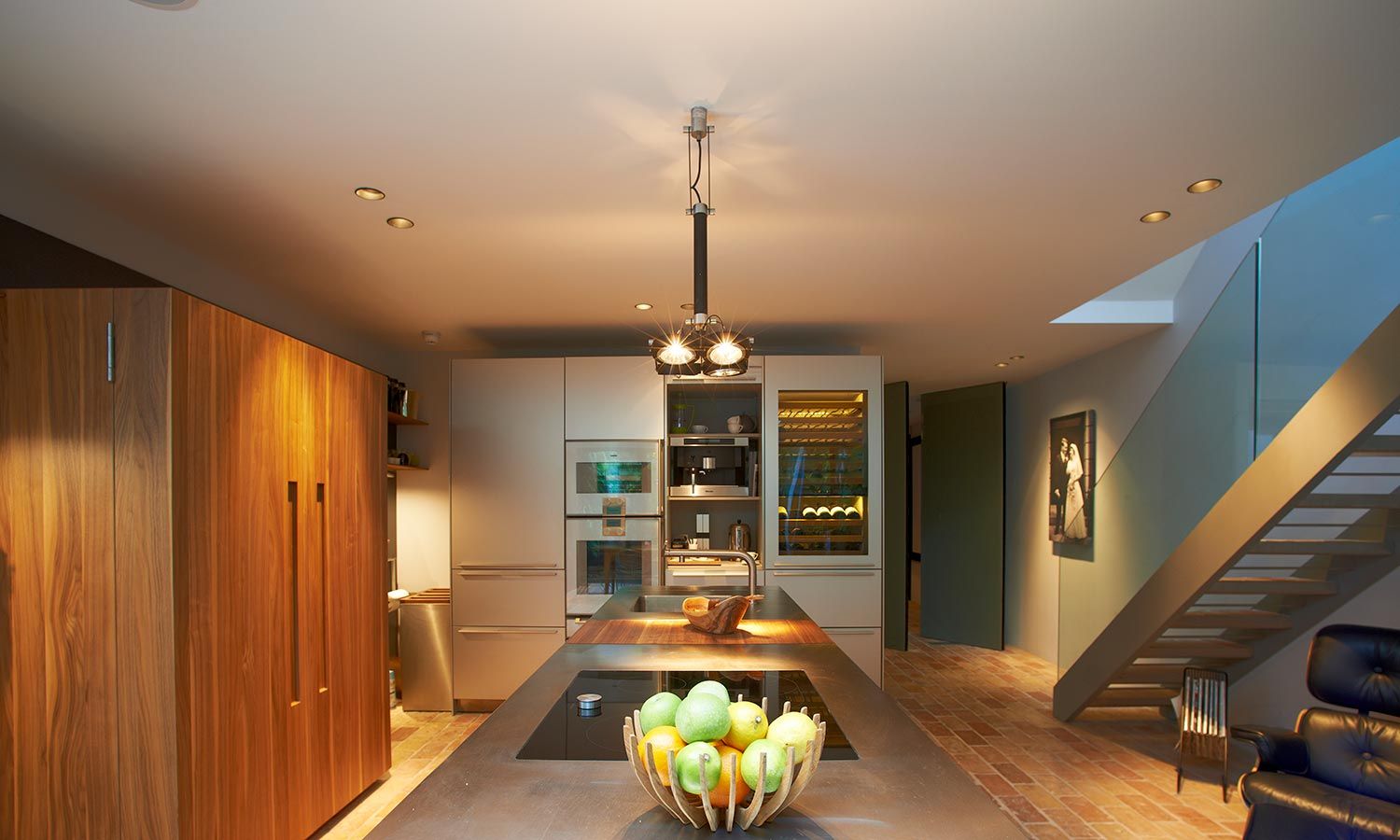 Experience personalized control for your unique lifestyle with the power of Salt Lake City-based Control4. Connect virtually any device in your home or business to work together, and command them all with customized one-touch controls and scenes from your system remote or smart device of choice. Whether you're home or away, Control4 gives you the power to command and monitor your estate or business in one platform. The transformative benefits of a smart connected home and business with Control4 delivers convenience, peace of mind and an efficient environment that's comfortable and safe.
Inventors of the solid-state dimmer in 1959 and now holders of 2,700 worldwide patents, Lutron has expanded their product offering to more than 15,000 products. Lutron lighting makes it possible to craft the perfect atmosphere at home or in the workplace to complement your day-to-night activities with personalized Lutron lighting and shading control for enhanced comfort and productivity. Recall your favorite settings from a master keypad or remote to easily transform your environment with just a tap or set your lights and Lutron shades to adjust on their own so you can focus on the activity at hand. From the workplace to the home in Cuyahoga Falls or Columbus, OH, Lutron shades and lighting provide sophisticated solutions for custom systems that operate seamlessly at your command.
PowerShades was founded in February of 2017 by Jason Turner and Ryan Chacon, both Electrical Engineers and both natives of the Joplin, MO area. Their vision was to bring their expertise from various industries, including furniture, wireless charging, capacitive sensing, and industrial machinery, and direct it toward attaining a specific level of automation in multiple industries, but most specifically to the Motorized Window Covering industry.
Furniture
---
Design and functionality intertwine in BDI's media room and home office furniture solutions. Not only does this Virginia-based company create user-friendly designs that improve product life quality, but their flow-through ventilation and cord-management systems optimize technology performance. An ongoing commitment to functional design, high-end materials and attention to detail result in pieces that last for years. Add structure and style to your media room with TV stands and media consoles, and recharge your record collection with audio cabinets. Streamline your workflow with modular office furniture solutions such as adjustable bookshelves, cabinets and more. Since its founding in 1984, BDI continues to design a wide range of furniture designs and configurations for the modern home and office. Furniture is available in various finishes, including walnut, oak, black and charcoal.
Since Salamander Designs was founded in 1992, they've placed innovation and specialization at center stage with their AV furniture designs. Not only does Salamander Designs specialize in AV cabinets, but they also offer racks, stands and home theater seating. All units are built-to-order in their Bloomfield, Connecticut headquarters, whether working with a pre-designed model or building from scratch. Explore a wide range of styles, materials, sizes and finishes to build the ideal solution for your home. A design configurator on their website guides you through the process based on the technology you wish to include. Beyond the overall aesthetics, each piece of furniture enhances the performance of your electronics while facilitating their maintenance. Leveraging precise aluminum frames and natural materials, Salamander Designs delivers products built to last.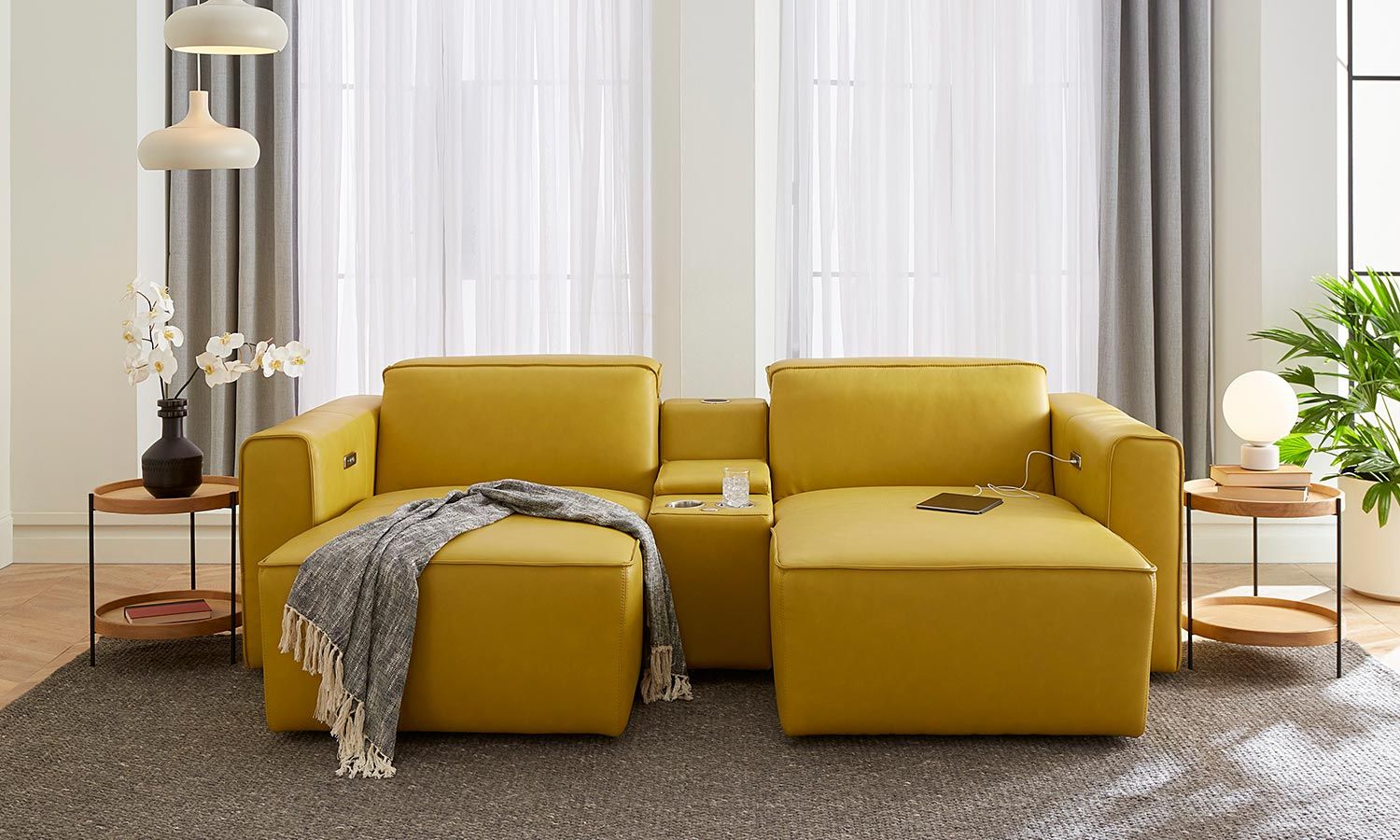 Palliser home theatre seating will elevate every entertainment experience, from movie marathons to the big game. Limitless home theatre configuration options allow you to create the ideal setup for your space. Choose from a 2-seater, 3-seater, 4-seater, 5-seater setup or more, in single or multiple rows, and a straight or curved formation. Exceptional comfort and luxurious power recline functions combine with LED lights, cupholders, storage consoles, USB charging and a range of optional accessories to provide the ultimate in convenience and relaxation. Tune in, lean back and unwind knowing your Palliser home theatre seating is Canadian-made with the highest quality materials and mechanisms – comfortable seating designed to last.
We believe in offering consumers products of extremely high quality that meet their expectations and are tailor-made for today's lifestyle.
Elran designs comfortable, timeless products that reflect the very latest trends in comfort and lifestyle features.
Constantly evolving and at the leading edge of technological innovation, Elran continues to fine-tune its reclining mechanisms and offer a terrific range of flexible styles and options.
Motion furniture has changed a great deal over the years. Today, recliners fit right in with the way we define comfort and lifestyle.
Authorized Dealer for
Start Your Journey to Smarter Living
Connect with us to learn more about how these industry-leading brands work together to create your dream smart home or business.